CONCHA's CHAIRS - The Book

by Toni Lambert and Laura Lee Gillespie
Now available online at www.blurb.com
Woodworkers Toni Lambert and Laura Lee Gillespie are pleased to announce the publication of their new book CONCHA's CHAIRS, a photographic account of the creation of the beautiful chairs used in the
2006 Showcase production of Viva Concha! Rose of the Presidio by Candace Forest.
"We have known Candy for many years and she always talked about Concha. She would pop in and sing songs she had written and dance around our living room playing all the parts. Then she would remind us again that we would make Concha's chairs when she produced her show… One day she arrived with a bottle of Champagne. 'I'm producing Viva Concha!…I'll need the chairs by next April.' She gave us the only available photo of one of the original chairs and away we went."
Toni Lambert & Laura Lee Gillespie
from CONCHA'S CHAIRS
Softcover $25.95
Hardcover $39.95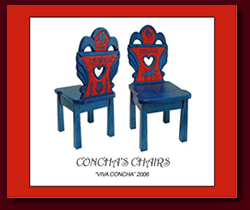 While you are visiting www.blurb.com, check out the other wonderful books by Toni & Laura Lee, WE GOT OUR KICKS IN 2006 bout their amazing trip across the country on Route 66 and LAOS 1969, about Laura Lee's adventures while volunteering at Dr. Tom Dooley's hospital. Toni is currently working with Candace Forest on a book about the making of Viva Concha! Rose of the Presidio, which they plan to publish in early 2008. It will be a complete history of the development of the show beginning with Candace's discovery of the story back in 1996.
Concha Chairs

Laura Lee Gillespie and Toni Lambert met Concha's composer/author, Candace "Candy" Forest when all of them were taking tap dance lessons at the same dance studio many years ago. They discovered that they were neighbors and have been good friends ever since!

"We've been hearing about Concha from Candy ever since she started work on the show back in 1996. She found out about the chairs Nikolai gave Concha for an engagement gift, when they were displayed as part of the the Gold Rush Exhibit at the Oakland Museum in the late 90's. Candy went to see the chairs and was inspired to write the song about them 'Here Is My Heart.' She always talked about having us make those chairs for the show and that's just what we did!"

The chairs are made of beautiful sugar pine from the sawmill of Toni & Lauralee's friends Carol & Joe Mooney, in Hyampton, CA. The only photograph the museum had of the chairs was not very good and so they had to basically do a whole new design. What they were able to incorporate from the original chairs was the carved out heart in the center of the seatback. Toni added many other special carvings to the chairs including of course, a rose!
For more information go to www.tponies.com